Lovely Apartment in Palanga
close to the Baltic Sea beach


John and I truly found this apartment in Palanga a little gem
right on the most convenient Basanavicius Street,
leading directly to the beach.

I came across this gorgeous apartment when searching for a place to stay. I found it by luck, as I didn't see it advertised with any company.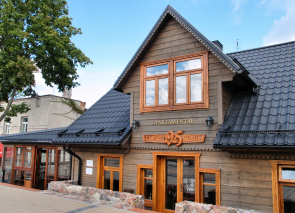 The apartment is set in one of the oldest houses in Palanga, which even though it was renovated still kept its authentic look. The cute two floor wooden house also stands out for its extraordinary entrance that is below the street level.

It gives the building a lot of character and uniqueness. In the past, the house would always capture my attention whenever I would pass it, but even though I had some meals in its cosy restaurant I wasn't aware that on the second floor you could rent a charming, picture–perfect suite.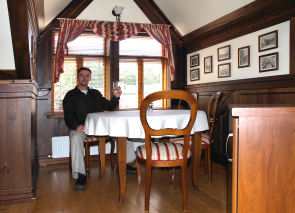 The apartment is set on the mansard of the house. It is very spacious with two bedrooms, a living room and a spacious modern bathroom, where you will find heated floor.Even though it's right above the "1925" bar we never heard any noise.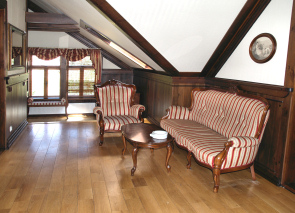 When you go inside, you are pleasantly surprised by a beautiful old-fashioned deco with wooden beams, antique looking furniture and black and white photographs of the old time Palanga.

A lot of cute, antique looking details create a refined, but very cosy atmosphere.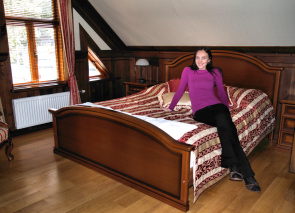 We had a very comfortable bed and romantic view from our bedroom window facing the tower of the gothic Palanga church.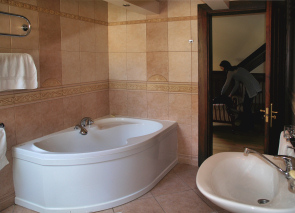 Notes:

The apartment doesn't have it's own kitchen but you can choose room service. Also you can have breakfast at the 1925 bar-restaurant which is just downstairs. You can either sit inside or in their pretty courtyard.

Also be aware that the apartment is on one of the busiest streets of Palanga and in high season we assume you are likely to get some noise of partying people. If you are intolerant of any noise you can choose from our other featured accommodation in Palanga further away from Basanavicius Street.



Apartment Rates:


Unfortunately, this apartment is not included in our choice booking company, booking.com that offers discounts, therefore, if you wish to book this apartment you should call them on tel. 8-460 525 26, or 8-684 713 01. and ask about current rates

Address: Baras 1925
J. Basanavicius Str. 4






Return from Lovely Apartment in Palanga
to Our Recommended Palanga Hotels


Go to Palanga


Return from Lovely Apartment in Palanga
to Home Page