has always been one of our favourite places.

We kept coming back to experience the sublime atmosphere that it offers sitting on the terrace shaded by the trees, overlooking the bubbling river Vilnele below.

Address: Uzupio kavine
Užupio 2
Tel. 212 21 38
Open hours: 10 - 24

On our last trip to Vilnius we made a return visit to one of the oldest of Vilnius restaurants' Lokys.
To get the most of the medieval atmosphere we went down the narrow staircase to the ancient Gothic cellars, where we were offered a cosy private cellar to ourselves.

Having a plate of exotic wild animal meat in the cavernous candlelit surroundings made it very easy to imagine you are back in the medieval times…

Our experience at Medininkai restaurant has always been pleasant and it soon became one of our favourites.
Looking for an atmospheric dinner we went there and chose to sit in the pretty gothic looking courtyard outside.
It was a slightly cool evening, but the delicious medley of game food, soft medieval tunes and pleasant service made us feel mellow and warm.....
Click here to read the full review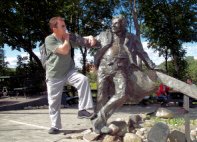 Tores

is most remarkable for its hard to beat location. One of the best panoramic views of Vilnius Old Town is always a delight no matter what you order. It also has a wine cellar and good choice of wine.

They offer a nice variety of seafood, alongside meat and grilled dishes....

Click here to read the full review
In the mood for Lithuanian?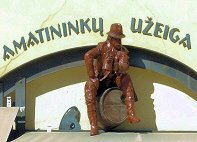 Amatininku Uzeiga

or Craftsman's Inn is popular with both locals and tourists alike.

It sits in the prime location and is open into the early hours of the morning which makes it a convenient option for a bite after a night out.

Lija and I visited the place on several ocations and always enjoyed tasty traditional food, cosy environment, attentive service and cheap beer.....
Click here to read the full review




Čili Kaimas
Or Chilli Village restaurant is a must visit if you wish to experience high quality authentic Lithuanian food in a homely chilled-out environment.
It's a bit like going to a friend's house.
The unique themed interior takes you to the traditional Lithuanian farmstead surroundings where you can try anything you wish from salads to something hearty and warming. Food portions are large enough to share, exceptional value for money.....
Click here to read the full review
Hungarian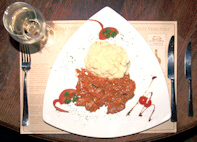 Csarda

We think Csarda restaurant is a truly excellent place to sample delicious food surrounded by a perfect blend of luxury and cosiness.

The restaurant offers the authentic food and wine of Hungary, which is famous for its friendly and warm people and inspiring cuisine. Here we had one of the very best dining experiences in Vilnius.
Click here to read the full review



Argentinean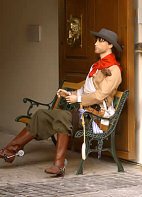 El Gaucho Sano

offers authentic Argentinean food right on the main Pilies Street. I enjoyed the beautifully grilled meat in the exotic surroundings and cosy ambiance.

Highly recommended by me and Lija.

This restaurant is located inside the elegant Atrium hotel.
Click here to read the full review



Italian

St. Valentino

St. Valentino is a stylish and elegant Italian restaurant in Vilnius Old Town.

I liked its cosy dining compartments and big windows overlooking the street.

The food is light and sophisticated and the chairs are the most comfortable I've experienced in Vilnius.Very relaxing.


Click here to read the full review



Indian


Sue's Indian Raja

is an excellent choice for a special occasion, upscale dining and ambiance.

Professional cooks from India provide high quality Indian cuisine, catering for both meat lovers and vegetarians.

The beautiful silver-coated deco inside matches the magnificent view of Vilnius cathedral opening from the restaurant's windows.
Click here to read the full review




Russian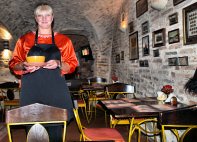 Cagino Restaurant

We recommend this inviting restaurant for its enticing Russian dishes, warm atmosphere and smiley service.
The colourful deco here is an attractive combination of old –fashioned Russian with elegant modern touches.

Click here to read the full review


International cuisine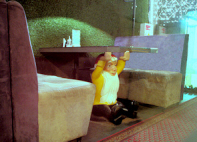 Gras'as
Overall Gras'as is a bit of a cool place where you get just the right atmosphere to unwind with some friends.
Food wise it's got an international menu alongside Lithuanian, which is a handy way of saying 'a bit of everything' and good value for money. We spent most of the evening happily chatting away in fun gnome-themed surroundings.
Click here to read the full review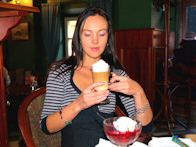 Markus and KO
The setting of Markus and KO is reminiscent of an old expensive London pub and it's located in a lovely part of Vilnius Old Town.
The highlight of the restaurant is high quality steaks, but if you're in the area it's a lovely place to drop by just for coffee and desert.
It is also one of Vilnius restaurants where you can enjoy live jazz music whilst you dine. To find out John's and my experience.....
Click to read the full review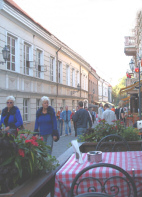 The main Pilies and Didzioji Streets

offer varied dining possibilities. Because of their prime location it is a very convenient option for a bite after some Vilnius sightseeing.

Cili pica

is one of the restaurants you can drop by even late at night after clubbing and you will never be disappointed with the delicious high quality food. We visited several restaurants in Pilies Street, please Click here to read the full review



More to come SOON!:

Lija's family's favourite Vilnius restaurants

Best Vilnius restaurants for families

Off the beaten track Vilnius restaurants.



Go to Our Experience Of Eating Out In Vilnius Restaurants


Go to Vilnius


Return from Our Reviewed And Recommended Vilnius Restaurants
to Home Page