"What is it like in Lithuania?"



I asked myself this when I

was planning a vacation in Lithuania a few years ago.

Back then Lithuania to me was just one of the Baltic States that I didn't

hear much about. However, my sense of adventure took over as

travelling and discovering new places is my passion.

Since I first visited the country I found

many things close to my heart

and it soon became one of my favourites.

I fell in love with this charming

historic place

(not overcrowded by mass tourism yet) and its people who were friendly and welcoming, keeping their traditions and culture live to the present day.

I stayed in a

Vilnius apartment

right in the centre of the attractive Vilnius Old Town, where my passion for photography was truly rewarded.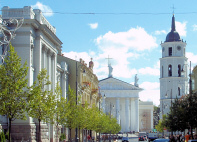 I loved wandering Vilnius cosy cobbled streets with church spires always in sight and then having meals at pleasant outdoor cafes.
(Photo right, Cathedral Square).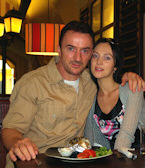 On my second visit to the country I met my future wife Lija who is Lithuanian and I got to know the country more closely, not just from a tourist point of view.

She showed me lots of places of interest that I wasn't aware of.

Meeting her family and friends also gave me a deeper insight into the Lithuanian way of life.




We often travel to Lithuania and over time we scoured most of the country.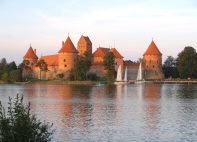 We visited the historic town of

Trakai

and its impressive medieval castle surrounded by a lake.

We went to see the famous

Hill of Crosses

in Siauliai, climbed the majestic sand dunes of the

Curonian Spit

and explored many other towns

and their

historic attractions.
The country's beautiful landscape with many national parks, lakes and incredibly fresh air is also very appealing to me.

One of my greatest pleasures was visiting Lija's grandfather's farmstead in an idyllic village and experience the country's unchanged rural way of life carried through generations.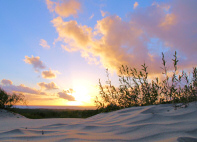 What a beach!

My biggest surprise was the enchanting Lithuanian seaside. I loved the unique
peninsular Curonian Spit in the West of
the country.

Its sandy beaches with a backdrop of pine
tree woods, magnificent windswept sand dunes

and romantic sunsets in the Baltic Sea left me with pleasant memories. The whole coast is a part of the UNESCO heritage and I think one of the country's must see places.

For those planning a vacation at a Baltic Sea resort, Palanga is another attractive option in Lithuania.





So Have YOU ever thought of what Lithuania is like?



In this website Lija and I will try our best to share
everything about Lithuania that we discovered.



We were pleased that The Lithuanian National Tourism Office
recommend and link to us as a useful information website



Click on the video below, which we found very interesting
and entertaining and feel some of the ambience of Lithuania:



Where is Lithuania?
Search the map of Lithuania
and zoom in for the map
of Vilnius at street level.





A brief history of the country
The people
"Must see" places in Lithuania
Facts about Lithuania
What makes Vilnius (the capital city) special
Vilnius walking tours visiting major sites
Vilnius places of interest
Favourite Vilnius restaurants
Getting around
Best Vilnius hotels (cheap and expensive)
The historic town of Trakai and its medieval castle
The unique Neringa peninsular on the Baltic coast
Nida -resort town of Neringa
Must see places in Nida
Favourite Nida restaurants
Juodkrante -resort town of Neringa
More to come …




The Lithuania News Blog is our way of keeping you up to date with new pages and changes that appear on welcome-to-lithuania.com site
Search this great map for a detailed map of Lithuania and map of Vilnius.
Read about flights to Vilnius. When I travel to Vilnius from London I usually buy tickets directly from Lithuanian airlines, Fly LaL approximately a month in advance.
Practical information about Lithuania including weather, currency of Lithuania, and other tourist tips.
I will be updating this page regularly on Lithuanian festivals and events in Vilnius and Lithuania
From John's memories of travel vacations, Vilnius is one of his favourites.Vilnius Old Town; our chocolate box city.
Enjoy with us in Vilnius Old Town; our chocolate box town.
Lija took me on Vilnius sightseeing days out. Here are the attractions that she showed me.
We feature our favourite Vilnius hotels, which are superbly located in Vilnius Old Town and get some of the best reviews from foreign travellers.
Luxury hotels in Vilnius Old Town, set in historic buildings offer very high quality comfort.
Our list of midrange and cheap hotels in Vilnius.
Our Recommended apartments in Vilnius that we liked best of all and other Vilnius apartments.
We walked to the Bohemian Uzupis district in Vilnius. Here, you will find some fine art galleries, artists' workshops and popular cafés.
We planned a day trip to the historic town of Trakai Lithuania and Trakai Island Castle
The Hill of Witches is the highlight attraction of Juodkrante and you will find that it's really worth visiting.
We had a delightful experience in Vilnius restaurants. I found a remarkable choice of great Lithuanian restaurants.
If it's quality entertainment you're after, then here are a few Vilnius bars.
Lija took me to the Craftsman's Inn to sample some Lithuanian food.The restaurant offers an extensive menu and a great olden times atmosphere.
Lija's family took me to Cili Kaimas restaurant in Vilnius to try Lithuanian food.
It was great to sit in Markus Ir Ko which is one of Vilnius restaurants that offers a classy London pub atmosphere.
Of The Restaurants in Vilnius we tried, Gras'as had all the elements for a fun time out along with great food and service.
After a day of Vilnius sightseeing, Lija and I would go to the main street which offers a variety of Vilnius restaurants.
Stikliu Alude offers classy Lithuanian food, attention to detail and romantic medieval interior. We'll come back to this Vilnius restaurant!
When looking for apartments in Vilnius we chose a flat in the centre of Vilnius Old Town: Close to restaurants and bars, yet it's located in a quiet residential street.
I would like to recommend my first apartment in Vilnius that I rented on the main Vilnius Old Town Street.
We loved our studio apartment not far from Vilnius centre and Vilnius Old Town that we rented from Natalex apartments in Vilnius.
Searching for great mid-priced Vilnius restaurants? Here are our favourites.
If you are looking for a special restaurant in Vilnius, Csarda offers delicious Hungarian food in an old fashioned romantic setting. Highly recommended.
I loved the exotic interior of El-Gaucho-Sano, Argentinean restaurant in Vilnius. They also know how to beautifully grill a piece of meat.
After a busy day I found St. Valentino, an Italian restaurant in Vilnius Old Town absolutely relaxing, offering excellent pizzas and other Italian food.
John and I chose this Indian Vilnius restaurant for a special occasion. Lovely food and a view of Vilnius Cathedral.
When it comes to Vilnius nightlife, there is a lot to choose; ranging from Vilnius clubs, fun themed bars to casinos and exotic shows.
I went to this Russian restaurant in Vilnius to find the difference between Lithuanian and Russian food.
Lija took me to Pabo Latino, one of the most fantastic Vilnius clubs in my opinion.
Brodvėjus is one of the most busy and unpretentious clubs in Vilnius. A cheap venue to have a fun night out with a group of friends.
KGB Museum is a must see place in Vilnius. Only after visiting the museum did I get closer to realising what the people went through under the Soviet rule.
I enjoyed visiting a number of Vilnius clubs offering a quality night out
I was charmed by the Shakespeare Hotel In Vilnius, which is a themed boutique hotel inspired by the English playwright.
The Grothuss hotel is for those who are looking for luxury hotels in Vilnius that offer an exclusive atmosphere.
We liked Vilnius hotel Apia for its excellent location, stylish rooms and good value for money.
We liked the Scandinavian style Vilnius hotel Rinno that offers stylish and cosy rooms.
Domus Maria guest house in Vilnius was appealing to John and me for its retained character of the past and its very central location.
My first impression of Vilnius Old Town was pretty, homely and somehow unpretentiously elegant. It isn't exactly for those who are looking for a big turbulent metropolis city, which it isn't.
Among luxury hotels in Vilnius, 5 star Narutis hotel is one of the most luxurious and the oldest hotel in town.
I was eager to show John the wonderful sandy peninsula called the Curonian Spit and our favourite beach in Lithuania, Nida beach.
Palanga offers long sandy beaches, health spas, lots of entertainment and beautiful surroundings of unspoilt nature.
We liked luxurious Europa Royale hotel in Vilnius, located close to the famous Gates of Dawn for its beautiful, atmospheric rooms set in the renovated 19th century mansion.
We found Ambassador Hotel in Vilnius rather basic but reasonably priced and very conveniently located in Vilnius shopping and business area.
We feature Radisson SAS Astorija hotel in Vilnius because it offers first class luxury and comfort.
Atrium hotel makes a nice addition to luxury hotels in Vilnius. We enjoyed its excellent Argentinean restaurant. The rooms are spacious and stylish.
We consider Bernardinu B&B as one of Vilnius discount hotels, considering its central Old Town location and pretty interior.
For those looking for a cheap hotel in Vilnius Old Town, LITINTERP Guesthouse would be one of the cheapest options.
Terms of use for Welcome to Lithuania.
This is a list of our recommended Palanga hotels and other nice accommodation in Palanga.
John and I pay repeat visits to Palanga Amber Museum for its fascinating amber collection and its pleasant 19th c. mansion surroundings.
We liked luxury Palanga hotel, that is surrounded by scented pine trees and offers 5 star relaxation.
We stayed in this gorgeous apartment in Palanga on our Baltic Sea vacation.
Apart from the obvious Palanga attractions like Palanga beach, you can also visit the Amber Museum, botanical garden and more.
John and I loved spending time on Palanga beach and watch the sunset from the sea bridge.
Alanga is a cosy hotel by the Baltic Sea, located in the centre of Palanga.
Visiting the botanical garden in Palanga was one of the highlights of our Baltic Sea holiday.
My idea of Palanga vacation activities and things to do in Palanga.
We liked the room with a glass veranda in this Palanga hotel.
John and I featuring our top 5 favourite Palanga restaurants.
Great Lithuania travel stories, contributed by visitors from around the world.
Would you like to share your knowledge about Lithuania? Great, find out how you can submit your story or tip here.