We had fun exploring
Vilnius nightlife
Vilnius nightlife is varied and vibrant and offers
quality entertainment.



Whatever your taste is you can choose from stylish designer bars, casinos and chic night-clubs
to the more traditional Lithuanian pubs and dance clubs.

The atmosphere is usually easy-going and friendly, trendy but somewhat less pretentious than in big cities.

I found Vilnius nightlife scene very atmospheric.

Exploring medieval Old Town at night is an experience in itself.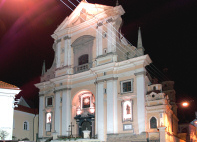 I loved its cobbled pavements lined with beautifully lit buildings and its cosy theme bars, some of them set in the ancient cellars.

I also liked that the best places to drink, eat and dance are concentrated in the Old Town within a short walking distance of each other.

Many Vilnius nightlife spots are open into the early hours of the morning.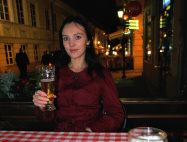 You can expect to pay around 15 Lt (4 Euro) for a cocktail and beer is always an option.

Local brands are of high quality, refreshing and inexpensive.

In the warm season it was fun for me and Lija (Photo left) to sit in one of the open-air beer tents scattered in Pilies or Vokieciu street and observe the crowds go by.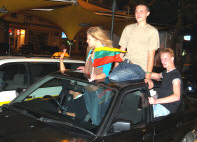 From my experience Vilnius at night has always been safe, but like in any other city don't push it, stay close to well-lit areas.

Last time I visited Lithuania, the streets were more alive than usual with the motion of Lithuanian girls and boys celebrating the victories of their beloved Lithuanian basketball team at the European championship.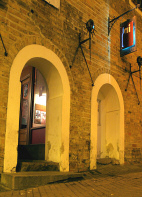 Vilnius boasts a number of elegant bars in the Old Town matching the historic surroundings that tempts you to stop by for a nicely presented drink.




Click here for our choice of Vilnius bars and find one that you may like.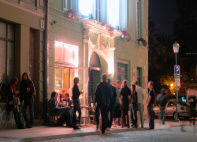 I found that most of Vilnius clubs comply with the latest requirements of design, sound and light quality and are similar to the best nightclubs of the world.

Click here to choose Vilnius Clubs for yourself whatever music style, crowd or atmosphere you fancy.


There are some places in Vilnius that have a restaurant, bar, nightclub and casino under the one roof.

This might be an option for those who don't want walking from one venue to the other.



This building in the Old Town (Didzioji street) houses Helios steak house, Vila Latina club, Helios nightclub, Ring bar and City casino.







Go to Start Your Night Out With Vilnius Bars


Go to Vilnius Clubs


Go to Vilnius


Return from We Had Fun Exploring Vilnius Nightlife to Home Page