Luxury hotels in Vilnius
for those looking for high quality luxury and comfort




Click here to choose your own hotel, or see the list of our recommended hotels below.

Most of luxury hotels in Vilnius are set in historic buildings of the Old Town, the most impressive part of the city. They offer beautifully designed luxurious accommodation with attention to detail, professional services and they usually have very high quality restaurants.



I have listed the hotels down from the least expensive 4 star hotel to the most sophisticated 5 star luxury accommodation with prices to match.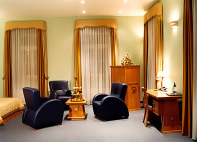 Atrium Hotel $$$$

This 4 star hotel makes a nice addition to the Vilnius luxury hotel scene. Located on the main bustling pedestrian street of the Old Town, it offers an easy access to all the attractions.

Rooms are stylish and spacious and offer exceptional comfort. On - site sauna and excellent Argentinean restaurant add to the hotel's appeal.
Read the full review and booking details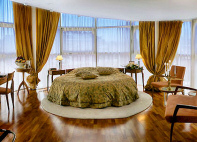 Europa Royale Hotel $$$$

Close to the famous Gates of Dawn boasts excellent location, beautifully designed rooms, cosy atmosphere, hospitality and excellent Medininkai restaurant.

Set in the 19th century mansion it offers some rooms with balconies right over the pretty Ausros Vartu Street. Some top floor rooms have cosy terraces with panoramic views. Just as you step outside you will find a few nice bars and cafes, boutique shops and the mystical Gates of Dawn chapel.
Read the full review and booking details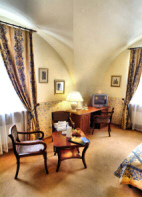 Shakespeare Hotel $$$$

Located on a very peaceful cosy Old Town lane, I find this themed boutique hotel in Vilnius really charming. Each room has its own unique design, inspired by the great writers.

The hotel is close to St. Anne's church and is just slightly off the road to the main Pilies Street. The hotel also offers the atmospheric Globe bar and elegant Sonnets restaurant.
Read the full review and booking details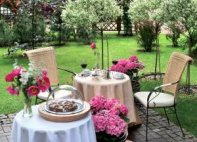 Grothuss Hotel $$$$

This exclusive boutique hotel is one of the luxury hotels in Vilnius. It stands on a quiet cobblestone Old Town Street, but close to the City Hall and other attractions.

The rooms have a beautiful, old fashioned look, tastefully refined with original artworks and some of the rooms areoverlooking the hotel's pretty garden. All comforts of modern life are provided.
Read the full review and booking details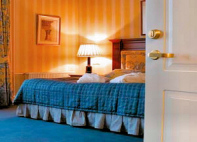 Radisson SAS Astorija $$$$$

This 5 star business class hotel, which belongs to the international hotel chain Radisson SAS Astorija, stands in the very heart of the Old Town and provides all the comfort and luxury you would expect from the first class hotel.

A large health and fitness club, a bar and a restaurant are some of the assets of the hotel. The hotel's bar has a pleasant veranda, which is a lovely spot for meeting up with friends or watch the bustling life of the Old Town go by.
Read the full review and booking details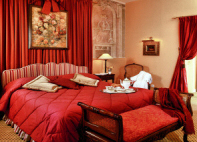 Narutis Hotel $$$$$

Luxury hotel Narutis offers cosy refinement and the unbeatable location on the main Pilies Street, where you will find chic shops, cafes and restaurants. This hotel is for those who value old-fashioned luxury over modern style.

The rooms are decorated with some paintings, original frescoes, flowers and antiques. Luxury and old-fashioned elegance set the tone throughout. Charming spa centre in the cellars and a cosy restaurant add to the hotel's assets.
Read the full review and booking details


Return from Luxury Hotels In Vilnius
to Our Favourite And Recommended Vilnius Hotels


Go to Midrange And Cheap Hotels In Vilnius


Go to Recommended Apartments In Vilnius That We Stayed In


Go to Vilnius


Return from Luxury Hotels In Vilnius
to Home Page