Our experience of
eating out in Vilnius restaurants
Lija and I almost always had a delightful dining
experience in Vilnius restaurants.

Even on my first trip to Lithuania I found a great
choice of restaurants serving most
tastes and pockets.




And now it's even more so with new restaurants, cafes and bars springing up all the time.

I would call myself a rather picky eater but my idea of good dining was rewarded here, as most Vilnius restaurants offer a great atmosphere and excellent food.

It is also appealing that eating out in Vilnius is cheaper than in other Baltic capitals. Most of the visitors find dining in Vilnius very inexpensive.

Wine and other spirits will be your biggest expense. But there is always an option to go for inexpensive local beer. They serve good local brands such as Svyturio, Utenos or Kalnapilis, which are light and refreshing; some of them won high international awards.

You can also try some stronger traditional spirits like Lithuanian vodka degtine, which I liked mixed with some apple juice.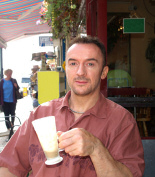 Food in Lithuania is usually well presented and the menu is pretty varied.

You're going to come across a variety of potato and meat dishes in Lithuanian cuisine restaurants, accompanied by locally grown vegetables, berries and mushrooms.

You will also find many restaurants that present a creative fusion of Lithuanian and International cuisines where you can try for example traditional potato pancakes with salmon filling.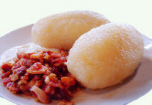 A traditional staple that must be tried at least once is cepelinai –potato dough dumplings stuffed with minced meat, cheese or mushrooms, (while not to my taste it's a popular choice with locals and Lija)

Other traditional foods to sample are bulviniai blynai- grated potato pancakes, and cold beet soup served with boiled potatoes. (I liked both of them)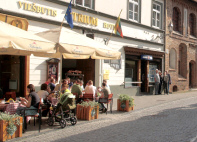 Traditional Lithuanian starters include a plate of assorted cheese or cold smoked meat,
silke
(herring), mushrooms and different kind of salads .
For a change from local cuisine Vilnius offers a great number of ethnic restaurants.
You will find almost anything you wish:
Italian,
Argentinean,
Chinese,
Hungarian,
Russian,
Indian
and many more.
I found that many restaurants and cafes in Vilnius are superbly located, some of them offering panoramic city views.
Most of them also have dining areas in atmospheric cellars downstairs, which sometimes are not so obvious when you first enter the restaurant. I found the medieval themed restaurants very appealing.


After sampling plenty of restaurants in Vilnius it is difficult to pick out just a few favourites.

Nevertheless here's a list of restaurants we think is really worth a try while in Vilnius.

We will of course update the list with future up and coming restaurants as we discover them.




Go to Our Reviewed And Recommended Vilnius Restaurants


Go to Vilnius


Return From Our Experience Of Eating Out In Vilnius Restaurants To Home Page