LITINTERP Guest House – a cheap hotel in Vilnius Old Town

If you are looking for a central cheap hotel in Vilnius Old Town location 2 star LITINTERP Guest House is one of the cheapest options. This is one of the longest - standing guesthouses in Vilnius, which has been providing inexpensive B & B accommodation since 1992.

It is located on a quiet Bernardinu Street, but only a few minutes away from the main Pilies Street, right in the heart of the Old Town.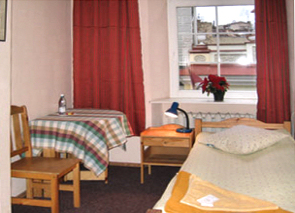 They offer 4 single, 10 double / twin and 2 triple rooms. Each room has access to a small kitchen with a refrigerator and tea / coffee making equipment and also a telephone.

The rooms are decorated with original photographs of the Old Town and furniture made from Lithuanian wood. The rooms look quite basic, but clean and with somewhat homely traditional atmosphere.

Some of the guestsrooms have private bathrooms, while others have shared bathrooms (a maximum of 3 - 4 guests share one bathroom).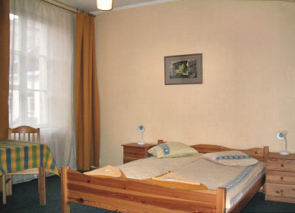 Services include car parking in the inner courtyard, airport pick-up and car rental can be arranged.

Notes:

Guests have their own keys with access to their rooms at any time.

All rooms are non - smoking.

You are free to discuss your breakfast menu with the staff.

Some rooms have shared bathrooms.

Unfortunately, this hotel is not included in our choice booking company, booking.com that offer discounts, therefore, if you wish to book this hotel see the details below.

Room Rates:

Address: LITINTERP Guesthouse
Bernardinų St. 7 - 2

Room rates and booking Tel. (+370 - 5) 212 38 50

vilnius@litinterp.lt





Return from L ITINTERP Cheap Hotel In Vilnius Old Town
to Midrange And Cheap Hotels In Vilnius


Go to Our Favourite And Recommended Vilnius Hotels


Go to Luxury Hotels In Vilnius


Go to Recommended Apartments In Vilnius That We Stayed In


Go to Vilnius


Return from LITINTERP Cheap Hotel In Vilnius Old Town
to Home Page