The Hill of Witches
John and I had lots of fun exploring the extraordinary wooden creatures on the Hill of Witches;

the main highlight attraction of Juodkrante.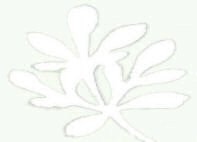 Walking along the forested path of the hill,
we encountered a unique collection of old
wooden sculptures that were skilfully
carved by local artists.

Each figure comes from Lithuanian legends and fairytales.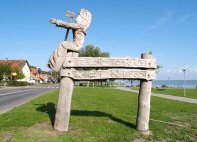 It is very easy to find, just go along the main street and you will see a carved wooden witch pointing you in the direction of the hill.
You are welcomed to enter the world of demons, witches and other mythical creatures at no charge.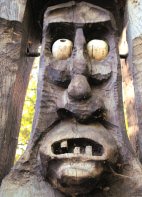 The sculptures are playful,fascinating, mystical and creepy.

To the joy of children, some of the sculptures can move their eyes, ears or may be used as benches, slides or swings.


The forested hill itself adds to the atmosphere.



In pagan times.....
it was called St. John's Hill and it was used for midsummer celebrations.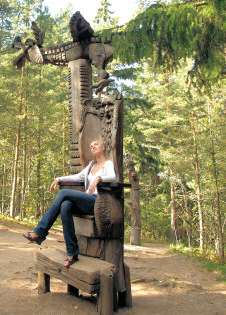 In this magical place everyone can easily feel like a child again.Try the Devil's Armchair or slide down the Giant tongue.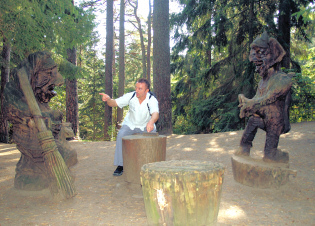 If you sit down with these two, beware- they cheat at cards!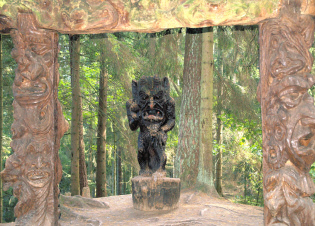 Don't be lured into entering the devils palace- because if you do
there is a very steep drop just behind him- be careful!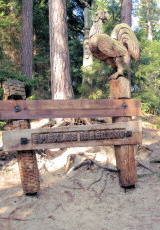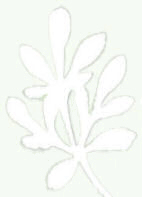 At the dawn when the rooster starts to crow-monsters hide away.....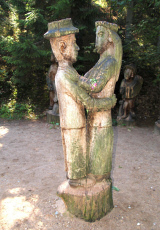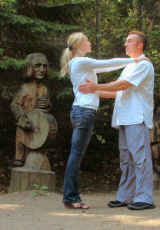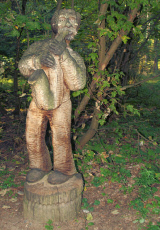 And everyone on the Hill can relax and celebrate.


For more about Joudkrante, click on the links below:
Return from Hill Witches To Curonian Spit


Return from Hill Of Witches To Home Page