St. Valentino - an elegant Italian
restaurant in Vilnius

We would recommend this Italian restaurant in Vilnius
for those who are looking for a romantic dinner or those who
fancy delicious Italian food, relaxing surroundings
and smooth, professional service.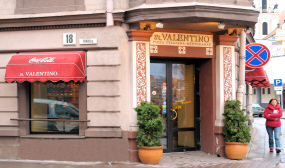 St. Valentino restaurant is bright and welcoming with big windows facing one of the main streets of the Old Town in Vilnius.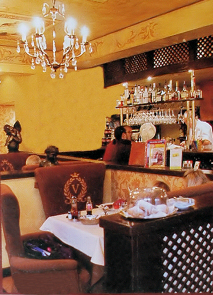 It is classy, yet cosy with candle lit tables, frescoes and statuettes and fresh roses on the tables.

White linen cloths and glittering glassware add a note of elegance.

They also have an even more intimate area in the downstairs cellars.

It is obvious that they really made an effort to create a very relaxing atmosphere - cosy dining compartments with very comfortable plush chairs, most probably the most comfortable chairs I've experienced in Vilnius.

All the comfort was really appreciated, as I was rather tired after a busy day.


Shame about the plasma screen TV on the wall, but I suppose you can't have everything :) I usually find them rather distracting, which I came across in some other restaurants in Vilnius.

In this case it was not too bad as they were showing Italian music videos. We chose a table by one of the large windows facing the street, but had we come just about 20 min. later we would have probably waited for a table, as the restaurant was becoming full.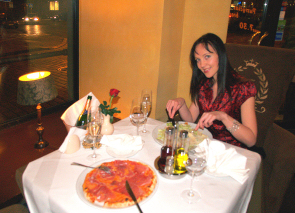 For a starter the menu offers plenty of salads and antipasti. Lija's Caesar salad came with tender pieces of warm chicken in a fantastic light sauce, which she said made it delightfully tasty. (6 €)

As this is a special place in Vilnius to go for one of their excellent pizzas, I chose one with parma ham and other fresh and flavoursome ingredients on a thin and crisp crust, non greasy and made just the way I love it. (8 €)

We chose a dry white wine at 11 € which went well with our meal.

On the menu they also offer lots of fish and seafood dishes.

All in all we had a wonderful evening at this Italian restaurant in Vilnius. Delicious food and pretty surroundings inspired a mellow, romantic mood and interesting conversations.
Recommended!

Address: St. Valentino
Vilniaus Street 47/18
Tel. 231 41 98
Open daily: 07:30 - 23:00, Sun 10:00 - 23:00,
Thur 07:30 - 24:00, Fri 07:30 - 24:00, Sat 09:00 - 24:00




Return from St. Valentino - An Elegant Italian Restaurant In Vilnius
to Our Reviewed And Recommended Vilnius Restaurants


Go to Vilmius


Return from St. Valentino - An Elegant Italian Restaurant In Vilnius
to Home Page