The medley of game food
soon took the chill out of the evening in one of our favourite restaurants in Vilnius,
Medininkai
We were looking for a place to have a late dinner and chose this restaurant, which became one of our favourite restaurants in Vilnius and it was also the closest to us, located in Vilnius Old Town at the Gates of Dawn.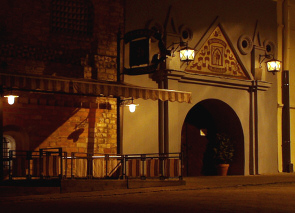 John's and my experience at Medininkai restaurant has always been pleasant as it has all the main elements that in my opinion make a good restaurant: excellent food, a pleasant ambiance and a welcoming staff.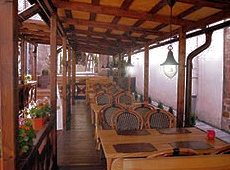 When we arrived it was about 10: 30pm. and the restaurant that evening was very busy inside, so we chose to sit outside in the pretty medieval looking courtyard.

Quaint lamps hanging from the ceiling, wooden tables and carved chairs give it a Gothic look.

They played soft medieval tunes of "Clannad" which fitted in with the medieval surroundings and completed the atmosphere.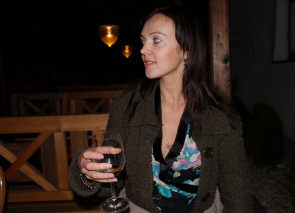 The waiter offered me a warm blanket which they have for the comfort of diners on cooler nights.

The pleasant atmosphere made us mellow and we were looking forward to our meal as the slight coolness in the air gave us a better appetite.

The waiter who was serving us seemed to genuinely enjoy what he does and even though he was busy with a few tourists groups downstairs, he found time for a friendly chat with us.

John was pleasantly surprised when the waiter recognised his Scottish accent. We found that he did some travelling in Europe last summer.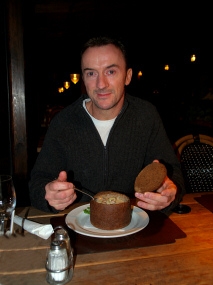 We started with a hot potato and mushroom soup served in fresh rye bread instead of a plate, which was delicious and to my mind the best medieval –kind of soups that I tasted in restaurants in Vilnius.

It was followed with a special meal for two.

Unfortunately I lost the bill for this particular evening so I don't have anything to remind me the prices for the meal,

but to give an idea the soup was around 3 € and the meal for two around 12 € and the bottle of wine came to 17 €.



The main course turned out to be very generous. Judging by the size of it the meal looked more for four people than for two and it tasted at least as good as it looked.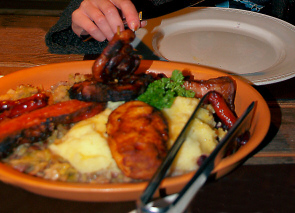 The meat was tender and sausages tasty and crispy. Even though I don't have a particular desire for meat I couldn't stop eating.


The restaurant's chef has won rewards in the international competitions.

On the menu they offer a wide choice of tempting meat, poultry and seafood dishes. The starters include Fresh salad with grapefruit, grilled turkey meat and Turkish peas... 6 €,

Fried chicken breast salad with a New Zealand mussel. Served with fried bread and vegetable-tomato sauce (salsa)... 8 € to name just a few.
They also serve nice vegetarian food.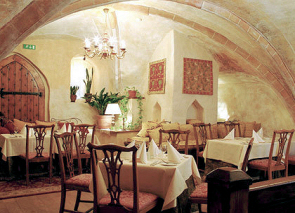 The restaurant inside has beautiful and intimate dining rooms decorated with antique furniture and pictures.

The ambiance is stylish and refined but also laid back at the same time.

Those who wish can also enjoy after-dinner drink in the next door Europa Royale Hotel Bar.

Altogether we left feeling full and satisfied and next time we will be back again to one of our favourite restaurants in Vilnius

Address: Medininkai
Aušros Vartų 8
Tel. 266 07 71, +370 650 006 00
Open hours: 12:00 - 24:00




Return from One Of Our Favourite Restaurants, Medininkai
to Our Reviewed And Recommended Vilnius Restaurants


Go to Vilnius


Return from One Of Our Favourite Restaurants In Vilnius, Medininkai
to Home Page