Start your night out with Vilnius bars
In general I found Vilnius bars atmospheric and social and most of them are conveniently located in the Old Town.

Bars in Vilnius are a good place to start your night out and
the city boasts a number of them.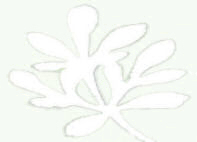 In Vino

At the moment this is one of the popular Vilnius bars, so you are likely to find a party crowd here on any night of the week.

It is superbly located right in the heart of the Old Town close to the Gates of Dawn.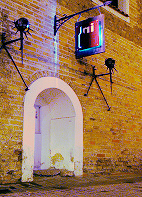 The wine bar is done with a rather modest and minimalist décor.

It felt laid back and oozed a great atmosphere.

You might wish to start with some chilled wine accompanied with a nice selection of olives. They serve a variety of food and also have a dance floor.

Address: In VinoAušros Vartų 7, tel. 212 12 10.
Open Daily: 16:00 - 02:00, Fri - Sat: 16:00 - 04:00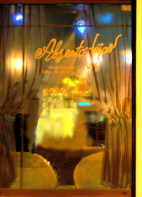 Absinthe fairies

is one of the trendiest Vilnius bars. The mysterious lights coming out of the bar's window made us curious to stop by.

The place inside boozes a certain sensual aura and the florid, fairy-tale like deco is very appealing.

The green coloured cocktails with burning sugar cubes match the bohemian atmosphere. I especially liked their Absinthe Mojito cocktail.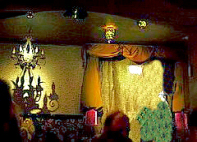 However, I had read reviews about the bar prior to my visit and people were complaining about its strict face control at the weekends and some 'private party' excuses.

If with this attitude, it's still your cup of tea then you will find lots of atmosphere, good music and a nice crowd.

Note that it's pricier than other Vilnius bars and you also have to be 21 to get in.

Address: Absento fejosAušros Vartų 11, tel. 261 92 61.
Open Daily: 20:00 - 03:00, Sun-Mon: Closed Fri - Sat: 20:00 - 05:00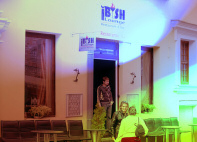 Ibish Lounge

is also located at the Gates of Dawn and houses a bar and a restaurant.

It is a good place to start a laid-back weekend session of eating, drinking and socializing.

The deco is cheerful with a colourful exotic fish tank and a bamboo wall.

If you want to stay away from the bubbly bar, they have another more private and quieter room, where you can relax and enjoy your meal.The restaurant offers a selection of good food. Our favourite was to sit at the front terrace outside.

It provides a prime position to look onto the attractive Gates of Dawn Street.However it was quite empty during the week, so if you are looking for Vilnius bars with a good time buzz we would suggest going there at the weekends.

Address: Ibish LoungeAušros Vartų 11, tel. 260 90 65.
Open Sun: 12:00 - 24:00, Mon: 12:00 - 03:00, Tues - Wed: 12:00 - 24:00, Thurs: 12:00 - 03:00, Fri - Sat: 12:00 - 05:00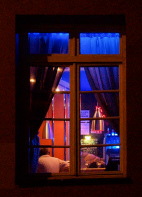 Sole Luna

Sole Luna is a cheerful and colourful bar run by a few enterprising Italians. The deco theme here is Mediterranean with the walls painted in orange, yellow and bright blue.
It's a charming place for a refreshing cocktail or a bite to eat. Try their delicious crepes or some of the fancy deserts. In the warm season you can sit outside in their lovely Baroque courtyard at the back.
Sole Luna is situated alongside Vilnius university and is popular with students.
Address: Sole Luna
Universiteto 4, tel. 212 09 25.
Open Daily: 17:00 - 04:00, Sun: Closed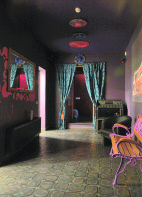 Mojito Naktys

We found this bar in the Old Town.

We were impressed with the bar's interior which is sleek, dark and atmospheric and has a New York lounge bar feel to it.

Mojito Naktys is considered Vilnius's first international standard cocktail bar and offers the widest choice of cocktails and shots in town filled with ice cubes that light up in the dark.

They always have something to satisfy every taste with some more exotic and fun cocktails included, such as "body shots", when they pour the cocktail directly into your opened mouth and then squeeze in the lemon. Note that this bar is among the most expensive Vilnius bars

Address: Mojito NaktysDidžioji 33/2, tel. +370 610 041 31.
Open Daily: 19:00 - 02:00, Fri - Sat: 19:00 - 04:00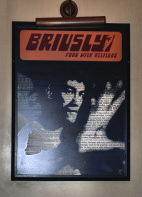 Briusly (Bruce Lee)

Briusly is a funky bar situated in one of the atmospheric streets of the Old Town. We visited the bar several times and always found a lively and friendly atmosphere inside with people enjoying themselves around the bar.

It seemed like a great place for socialising with a relaxing drink. The bar menu offers some nice light oriental dishes and a choice of inexpensive interestingly made cocktails.

There is a big screen and sometimes at the weekends they have themed evenings and show movies.

Address: Briusly (Bruce Lee)
Šv. Ignoto 14, tel. +370 655 971 11
Open: 12:00 - 02:00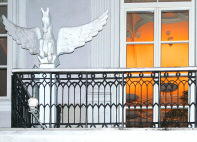 Pegasus

Whenever I walked down the main Didzioji Street a mysterious narrow balcony with a white statue of Pegasus would draw my attention. In the summer time you will always see a small crowd of people mingling there.
As I found out from Lija, the balcony belongs to Pegasus Novus, which is a fancy restaurant and a bar, both presented with style. Conveniently located on the main street, it's still not very obvious as the entrance is from the courtyard.

The restaurant serves a selection of anything from sushi rolls to hearty main courses. Lija and I agreed that her shrimps "Butterfly" and my grilled lime marinated chicken were most probably of the highest quality in town. The deserts were beautiful as well. The bar attracts a small but exclusive crowd.

Address: Pegasus
Didžioji Street 11, tel. 260 94 30
Open Daily: 11:30 - 24:00, Fri - Sat: 11:30 - 02:00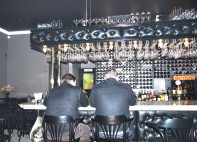 Bar BoBo

Offers a unique interior in Vilnius, as everything here is sophisticated black: the bar, the seats, the walls and even the bartender was wearing black. The dark feel is only brightened up by crystal clear glasses adorning the bar.

Lija and I went to check the bar out early in the afternoon. As it was quite chilly outside we ordered some whiskey to warm us up which was rather relaxing. However, in my opinion, its not a romantic afternoon bar.

It's one of Vilnius bars that you would go to late in the evening to have a few drinks and get in the mood for a club. The bar has a modern nightclub feel to it. There isn't much space around the bar, so it might get a little too cramped at night, which personally is not to my liking.
However, the service was professional and smooth. They also offer a great range of wines and premium spirits. The cocktail list is extensive as well and it is conveniently located close to the nearby nightclubs.

Address: Bar BoBo
Traku Street 15, tel. +370 677 773 35
Open Daily: 11:00 - 03:00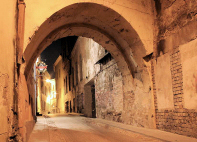 Artistai Pub

We stumbled across this pub when strolling along Šv.Kazimiero Street in the Old Town.

The pub is a bit tucked away under the picturesque arches of the narrow street but is well worth trying out if you are looking for Vilnius bars with cheap beer, very laid back atmosphere, cheerful crowd and live music venues.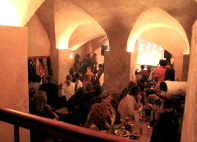 They also have a big courtyard where in the warm season music festivals and other venues take place.

Address: Artistai PubŠv. Kazimiero 3, tel. 212 12 68.
Open: 11:00 - 01:00, Sun: 12:00 - 24:00, Wed: 11:00 - 02:00, Thur: 11:00 - 04:00, Fri: 11:00 - 05:00, Sat: 12:00 - 05:00



SkyBar

Located in Reval hotel the bar is perfect for cocktails after dark when Vilnius streets turn into the maze of lights.


We were making a return visit for the relaxing atmosphere and the view that never fails to impress.

A short walk through the glistening reception of the hotel will take you to the elevator and then to the 22nd floor to the Skybar that offers some of the most beautiful panoramic views of Vilnius Old Town and the city centre.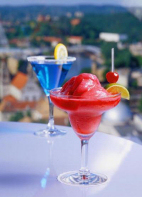 As Vilnius bars go SkyBar has a modern feel to it.We liked its dim lighting, comfortable chairs, well-spaced tables, lounge music and a stunning bird's eye view of Vilnius below which creates a very atmospheric setting to sip exotic cocktails.

They also provide free binoculars and have Live DJ music on Friday and Saturday nights.

A visit to the Sky Bar is highly recommended. Take a taxi if you are going from the Old Town.

Stopping at the SkyBar is also a nice way to start your night out if you are heading to the popular Galaxy club later which is located in Forum Palace just a few minutes away.

You may also wish to visit Olympic Casino, set on the ground floor of Reval Hotel.

Address: Konstitucijos 20 (inside the Reval Hotel) Tel: 272 62 72
Open Daily: 16:00 - 01:00, Fri - Sat: 16:00 - 02:30


MORE VILNIUS BARS COMING SOON!





Return from Start Your Night Out With Vilnius Bars
to We Had Fun Exploring Vilnius Nightlife


Go to Vilnius


Return from Start Your Night Out With Vilnius Bars
to Home Page