Apia is a Vilnius hotel
that is well appointed and good value for money

This pretty family run Vilnius hotel is situated in one of my
favourite narrow lanes of Vilnius Old Town.


The hotel occupies an atmospheric 17th century building and is surrounded by quaint churches, which gives you a taste of medieval spirit. Having only 9 rooms and 3 suites Apia hotel would be ideal for those seeking a more intimate, private house atmosphere.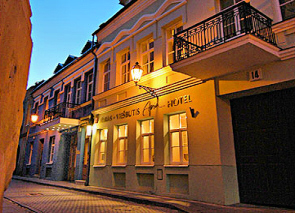 The hotel is pretty good value considering its location and pleasant ambiance.

Apia stands just slightly off the road from the main streets of the Old Town. It is very close to Vilnius University and also Vilnius Cathedral and some other attractions are within 5-10 minutes walking distance.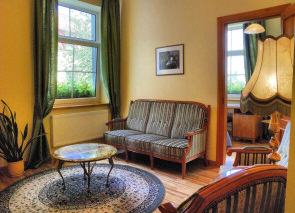 (Photo above: One of the hotel's suites)


This hotel in Vilnius offers 9 double rooms and 3 spacious suites with
modern facilities like satellite TV, telephone and Internet connection. Some rooms have balconies overlooking the pretty street. The rooms are bright and stylish. They are tastefully furnished and have a very cosy atmosphere with some of them set in the mansard. (See the photo below)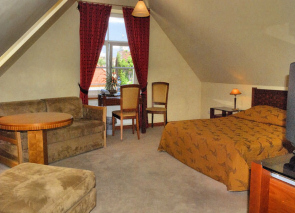 Apia hotel is also known for its genuinely hospitable and helpful staff, who pay attention to your individual needs and make the stay even more comfortable. Apia is a popular choice with people travelling with children.

Services include dry cleaning / laundry, free parking is available. In addition the hotel offers some extras including fax machines, car rental and you can also book tours with them.

Breakfast served to your room at the time you choose is a nice touch. Breakfast and all taxes are included when you book the hotel.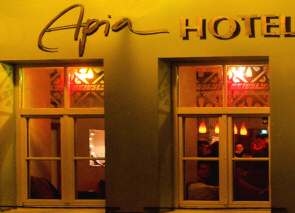 The funky bar Briusly is attached to the hotel and is popular with the locals and tourists.

Note that there are a few facilities lacking like mini bars and in-room safes.

Pets are allowed. Charges may be applicable.

Children from 6 to 12 years old get 50 % discount.


Room Rates & Contact Information


If you wish to read other people's reviews who stayed at the Apia Hotel, check out room rates and available booking dates, click on the link below.


Click Here To Reserve A Room In the Apia Hotel
________________________________
Return from Hotel Apia
to Midrange And Cheap Hotels In Vilnius


Go to Our favourite And Recommended Vilnius Hotels


Go to Luxury Hotels In Vilnius


Go to Recommended Apartments In Vilnius That We Stayed In


Go to Vilnius


Return from Vilnius Hotel Apia
to Home page