Sue's Indian Raja,
a Vilnius restaurant that offers a
delightful taste of India

This Vilnius restaurant is easy to find, as it is located just slightly off Gediminas Avenue, facing Vilnius Cathedral Square.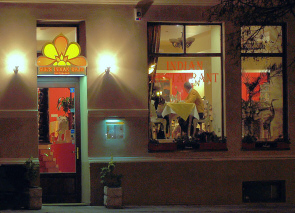 John and I went to Sue's Indian Raja, as it was recommended to us by several friends.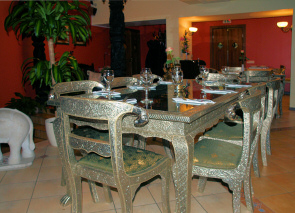 Through the entrance you are instantly impressed by the wonderfully opulent deco,

it almost feels like walking into a luxurious raja's palace with silver-coated tables and chairs, elegant statues of Indian gods and exotic plants.

For the authenticity the waitresses here wear saris and there is also Indian music playing.


We were seated by a large window with the superb view of Vilnius Cathedral opening before us. As it was snowing, the illuminated cathedral across the road looked even more magnificent and mysterious.

We found out that the restaurant has some interesting history.



It is the first Indian restaurant in Vilnius opened in 1998 by the owner Rajinder K. Chaudhary, a retired wing commander from the Indian Air Force and his wife.

They also opened Indian restaurants in all the Baltic Countries. Sue's Indian Raja in Riga was named among the best spicy food restaurants in the World a few years ago.


The restaurant in Vilnius has earned a lot of praise as well partly owing to its professional cooks from India who feature authentic Indian food with some of the dishes being cooked in the traditional Indian oven.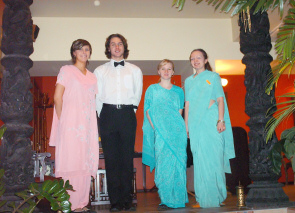 The vibe from the staff working here is attentive and welcoming. The waiter serving us was always smiling and seemed genuinely pleased to assist in choosing the meals.

The restaurant menu leaves you completely spoilt for choice. Everything looks amazing from saucy chicken madras, lamb kebabs to a special naan bread stuffed with raisins, dried apricots and dates and many more.

With pleasant food aromas in the air we couldn't wait to start our meals. Onion bhaji at 3 € was brought in first. For the main John ordered lamb curry at 8 € with pulao rice at 3 € and the naan bread at 1 € on the side. He said the meat tasted so tender that it almost melts in your mouth.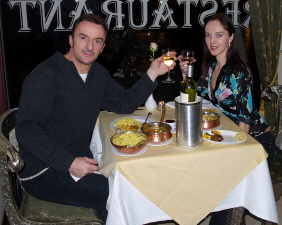 I chose from their exotic range of vegetarian food, vegetable biryani at 4 €, which was rich in flavour and just enough spice for me. I am not a big fan of really spicy food, therefore I was very pleased to find that on the menu you can choose anything from mild spicy to medium and extra spicy.

Our food was accompanied by a Calvet Chardonnay (17 €).

We would most definitely recommend this Vilnius restaurant to those looking for a classy venue and high standard cuisine, yet very affordable.

Address: Sues Indian Raja
Odminiu Street 3
Tel. +3705 266 1887
Open daily: 11:00 – 24:00




Return from Sue's Indian Raja Restaurant in Vilnius
to Our Reviewed And Recommended Vilnius Restaurants


Go to Vilnius


Return from Sue's Indian Raja Vilnius Restaurant
to Home Page