A relaxing afternoon meal
with a view in Tores,
one of the remarkable Vilnius restaurants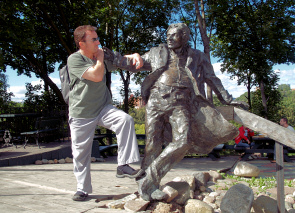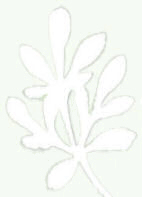 Tores restaurant stands out from other Vilnius restaurants for its hard to beat location.

It's famous for having one of the best panoramas of Vilnius and is one of the highlights when visiting the bohemian Uzupis district.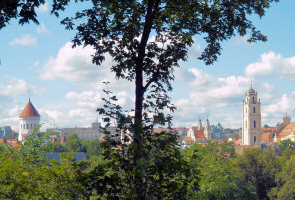 After a peaceful stroll in Uzupis and visits to a few craftsmen shops, Lija and I got in the mood for some afternoon snacks and drinks so we headed for Tores restaurant.

It is one of Vilnius restaurants where the view you get is always a delight no matter what you order.

In my opinion the restaurant is worth visiting even if you go there just for coffee, a glass of wine or a couple of beers in the summer.




We asked for a table at the edge of the terrace and ordered some wine first.The restaurant is located on the hillside therefore it overlooks a green river valley and leafy landscape below which creates a very relaxing and refreshing atmosphere and gives an almost being in the countryside feel.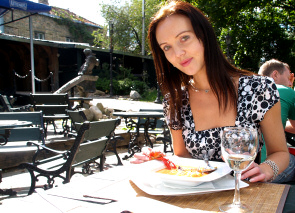 And of course the view of Vilnius Old Town opening before us was amazing. Among other famous roofs and spires I spotted Vilnius Cathedral and the Gediminas castle standing on the right.

The terrace itself is worth mentioning which is decorated with pretty bronze statuettes, little fountains, and some other interesting artifacts.




We started with their fish soup with seafood (5 €) which was impressively presented with a lobster at the corner of the plate.
It had a mixture of sweet and sour ingredients, which created a tasty
and refreshing flavour.


Later I went for Tores special salad, which contained pieces of crispy fried bacon slices, beef locket and seasoned with oil - tomato dressing. (8 €)Tores has the wine cellars so we went for a draught wine in a jug which is a good value for money at 6 €.




The afternoon was idyllic - we were enjoying the view and the gentle breeze was accompanying our meal, it was almost perfect…. Except for a few bees which persistently kept buzzing around the food for some time :(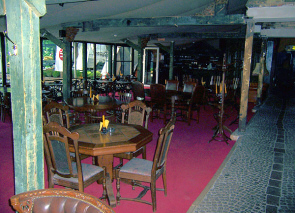 The outside terrace is seasonal and its only the extension of the restaurant.

We went to have a peak inside and found the interior dark and appealing, with displays of Lithuanian artists' works.

Sitting in the restaurant you can still enjoy the view of Vilnius. They also have dining rooms in the cavernous underground cellars.


All in all our impressions of the restaurant were good - beautiful view, lovely ambiance, nice food and the attentive waiter. This is one of the Vilnius restaurants that is worth a visit.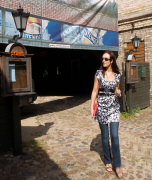 To get there: if you are walking from the statue of Uzupis angel head uphill Uzupio street, bear left when the road divides.
The journey takes about 6 min.

Address: Tores
Užupio 40
Tel. 262 93 09, +370 603 905 24
Open hours: 11:00 - 24:00




Return From A Relaxing Afternoon Meal With A View In Tores Restaurant
to Our Reviewed And Recommended Vilnius Restaurants


Go to Vilnius


Return from A relaxing Afternoon Meal With A View In Tores, One Of The Remarkable Vilnius restaurants
to Home Page